www.vedicshala.com
A leading Ayurvedic practitioner on Vedicshala, Dr. Ritesh Chawla, offers ayurvedic healing for hair loss and early baldness due to alopecia.
Dr. Ritesh Chawla, the experienced Ayurvedic practitioner at Vedicshala, has recommended natural hair loss and early baldness treatment. He says there are proven Ayurvedic healing methods for treating baldness caused by alopecia.
"Alopecia is a hair disorder that affects both men and women, with the most evident symptom being a noticeable loss of hair," says Dr. Chawla. "You can regain lost hair naturally by using anti-hair fall products containing ayurvedic herbs. It takes around a year for the hair fall to be reversed by treatment at our Centre."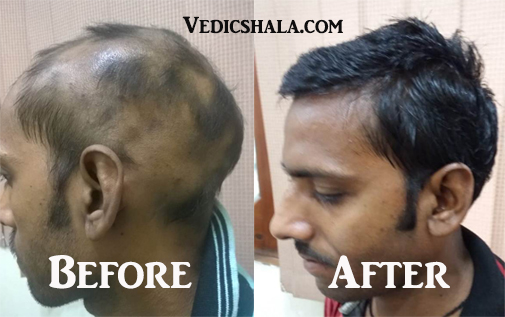 Ayurveda for hair loss is not a new concept. This ancient science has treatments and cures for many ailments considered incurable in the allopathic system of medicine. Treatment of hair loss is one such condition. Experts say alopecia can be treated with products containing ayurvedic herbs like hibiscus, shikakai, and amla.
Dr. Ritesh Chawla is an Ayurvedic consultant of repute and a Panchkarma specialist. He specializes in the treatment of alopecia and can cure/treat early baldness in both men and women.
 Alopecia affects both men and women, in which the hair follicle shrivels and dies. New hair is unlikely to grow in the place of lost strands. Ayurveda can help affected individuals by offering a natural cure for alopecia.  
 When it comes to the allopathic system of medicine, there is no cure for this ailment, except for the expensive and painful method of hair transplant.
 Ayurveda offers a natural alternative treatment to hair transplant. Those suffering from alopecia can contact Dr. Ritesh Chawla to know more about Ayurvedic treatment for this condition.
 Extreme stress is one of the leading causes of alopecia. Poor nutrition is another reason. When the blood flow to the scalp is insufficient due to any other ailment, it can trigger hair loss episodes. This problem is more likely to occur in those between 30 to 60 years. However, it can impact individuals from other age groups also.
 Along with the loss of hair, there are the symptoms associated with alopecia, such as minor dents in the nails. Along with continuous hair loss, the patients also experience anxiety and itching on the scalp or other parts of the body which are losing hair.
 Dr. Ritesh Chawla offers topical ointments and oils for the treatment of alopecia. If there is substantial hair loss already, that can be reversed by taking treatment regularly.
For more information about Vedicshala, visit https://vedicshala.com/.
 To know more about Dr. Ritesh Chawla, visit https://doctor.vedicshala.com/expert/vaidya-ritesh-chawla-b-a-m-s-md-ayurveda-kaya-chikitsa/#/.  
About Vedicshala:
Vedicshala is the world's first and only company offering online Ayurveda consultation. The platform is served by some of the most experienced and renowned Ayurvedic practitioners.
They have gained their education in Ayurveda from leading experts and top Ayurvedic institutes. Patients can also buy 100 percent natural supplements online from Vedicshala that are FDA-approved and GMP-certified.
Media Contact
Company Name: Vedicshala D/B/A Croissance Digital Services
Contact Person: Usha
Email: Send Email
Country: India
Website: https://vedicshala.com