Temperature and humidity sensors can be found everywhere in life. These sensors are capable of measuring water vapor in the air and ambient temperature. But how do they work, and what are their different types?
1. What are temperature and humidity sensors?
These sensors are designed for a variety of applications and are used to measure the humidity and temperature of the environment. They do this by finding the amount of water vapor present in the air surrounding the sensor. The moisture content in a gas can be a mixture of different elements, including nitrogen, water vapor, argon, etc. Since humidity can have a huge impact on different biological, chemical and physical processes, it should be measured and controlled in different industries therefore, these sensors are needed to help us.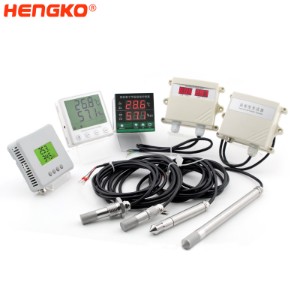 2. Temperature and humidity sensors
How do temperature and humidity sensors work? There are two different ways that temperature and humidity sensors collect data and measure humidity and temperature. One measures relative humidity (also known as RH) and the other measures absolute humidity (also known as AH). They can also be classified based on their size. Smaller sensors are used for smaller applications, while larger sensors are typically used for industrial applications.
Some of these sensors are connected to a microcontroller for instant measurement of relevant data. These sensors have a capacitive humidity sensing element and a thermistor for sensing the ambient temperature. The humidity sensor element (capacitor) has two electrodes and the moisture retention substrate is used as a dielectric between these two electrodes. Whenever the humidity level changes, the capacitance value changes accordingly. There is an integrated IC inside the cell that receives the measurement data and processes the resistance values that change due to changes in humidity and converts the data into digital form for the reader.
The simplest explanation is that these sensors use a negative temperature coefficient thermistor to measure temperature. When the ambient temperature rises, the element causes its resistance value to decrease.
In addition, there are temperature and humidity sensors with displays designed to provide visual reports of humidity and temperature and create a better experience for the user using such sensors. For example, 802c and 802p temperature and humidity with display, the sensors are perfect for when you are out and about and need to monitor the temperature and humidity of the place. They also have great accuracy!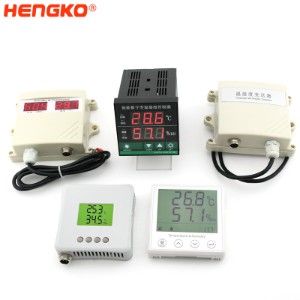 3. Accuracy of industrial temperature and humidity sensors
The accuracy of different temperature and humidity sensors varies. For example, the HT802 series temperature and humidity sensors have a ±2% accuracy and are capable of measuring up to 80% humidity. This is why high-precision sensors are used for industries that are highly sensitive to keeping temperature and humidity at a certain level, as they provide more accurate and reliable data. For example, the meteorological and scientific sectors need sensors with full humidity measurement from zero to 100% RH. Other areas do not need the full range for their application purposes. You should also be aware that sensors with higher ranges typically cost more than sensors with lower measurement ranges.
The HT802 series temperature and humidity sensor we mentioned earlier is usually adequate for a variety of applications and it costs less than those used for more sensitive applications. If you need higher accuracy but still don't have a large budget.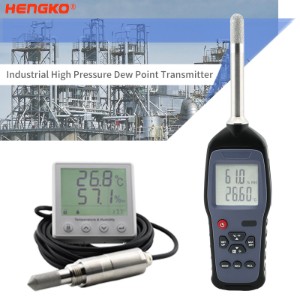 4. Humidity and temperature sensor applications
As we mentioned above, these sensors can be found on many devices, and they have a variety of applications! They can even help patients with breathing difficulties by allowing them to keep the humidity and temperature of the place at an optimal level. To predict weather conditions, weather stations also use these sensors. They can be used for heating and ventilation, and air conditioning systems. These sensors can also be used in greenhouses where humidity values need to be checked frequently. Museums can also benefit from them, as these are places where artifacts and objects should be kept under certain conditions.
Finally, How do I choose a suitable Temperature and Humidity Sensor?
There are some important specifications you might need to consider when you choosing this product. This includes:
a. Accuracy;
b. Repeatability.
c. Long-term stability;
d. Interchangeability;
e. Ability to recover from condensation;
f. Resistance to physical and chemical contaminants;
HENGKO's versatile, high-performance industrial temperature and humidity sensors are suitable for harsh industrial environments. The product adopts high-precision RHT series sensors with high accuracy and strong anti-interference ability, ensuring high measurement performance. The Industrial temperature and humidity sensors have remarkable long-term stability, low latency, high resistance to chemical pollution, and superior repeatability.
Media Contact
Company Name: HENGKO
Contact Person: Media Relations
Email: Send Email
Phone: 0086-755-88823250
Country: China
Website: https://www.hengko.com/