Golf socks prove a popular souvenir item for golfers and golf fans alike
Tulsa, OK - May 19, 2022 - Custom Sock Source, a Southern-California-based specialty manufacturer of made-to-order athletic performance footwear, is pleased to report record sales receipts as exclusive sock supplier for the PGA Championship 2022 Tulsa merchandise and apparel shop.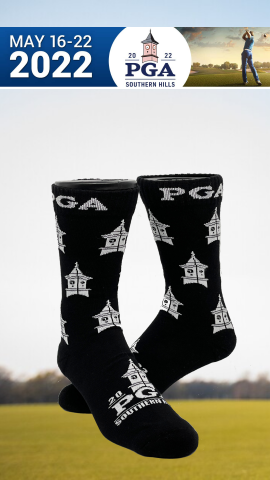 Vincent Wukmir, the company's director of sales and marketing, attributes the success of the brand's PGA-logo golf socks to increased interest among golf consumers in stylish, high-performance footwear, saying:
"Custom golf socks are perfect for several key golf consumer demographics, from the generation of Tiger Woods-inspired, brand-loyal youth to the burgeoning market of fashion-conscious female golf competitors."
Wukmir was quick to distinguish his brand's offerings from those of competitors, explaining that the industry's leading golf sock manufacturers are international athletic apparel brands that produce blank or minimal-logo socks as an afterthought to their established golf product lines of shoes or apparel.
According to Wukmir:
"Custom Sock Source, by contrast, is a specialty sock manufacturer, an advantage which affords us myriad design possibilities in terms of color, pattern, fabric and logo insignias and greater control over performance specifications. In other words, our socks look good and perform all day — or all tournament weekend, for that matter." 
Custom Sock Source has proudly served as exclusive sock provider for the Ryder Cup and PGA Championship, a testament to the unrivaled quality of the company's performance footwear.
Custom Sock Source's ongoing commitment to providing the finest quality American-made workmanship, individualized customer service and support, and the industry-best turnaround time from design to delivery contribute to its up-and-coming reputation as an elite specialty golf brand. In addition to exceptional golf products, Custom Sock Source is proud to offer a variety of other top-quality athletic footwear with sport-specific sock solutions for cycling, tennis, personal fitness, hiking, snow sports, and more!  
If you have any questions feel free to contact me anytime, or Visit https://www.flagpin.com/
Media Contact
Company Name: Flagpin
Contact Person: Vince Wukmir
Email: Send Email
Country: United States
Website: https://www.flagpin.com/