• Voice alerts • New Stainless Steel Non-stick Coating Technology • First multicooker to use steam heating to Cook • Slow cook, steam, bake, re-heat & more - Available on AMAZON & WWW.CHEFWAVE.com
(PRUnderground) November 8th, 2021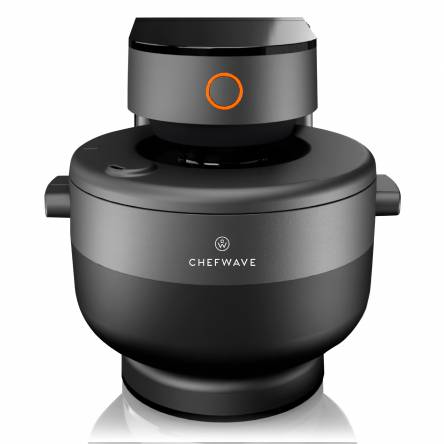 What if you had a 13-in-1 multicooker that uses pressurized steam heat to cook wonderful meals to perfection—without the hassle of vacuum-sealed sous vide bags?  Well, for starters, you'd have top-quality risotto, stews, multigrain pilafs, and even cake on the table in no time flat.
The Chefe Multicooker has 9 pre-set food programs and 4 one-touch cooking functions that let you slow-cook, steam, bake, and reheat with ease. This versatile kitchen companion uses Smart Control technology to ensure a cooking temperature that's precisely where you set it. And with the voice alert feature, you'll always keep tabs on the cooking process.
And talk about convenience: the delay start function keeps dinner on your schedule—and not the other way around!
This multicooker's 4-quart inner pot utilizes proprietary, new technology for its stainless non-stick inner pot. It can be used as a serving dish, and it's also refrigerator-friendly for convenient storage and reheating. You also get a recipe book plus useful extras like a steam bar, steam rack, rice paddle, and measuring cup. The product is as safe as it is easy to use, and comes with a 1-year warranty replacement guarantee. (Think sous vide + instant pot = Chefe Multicooker!)
The Chefe Multicooker is the first in the multicooker industry to use steam heating technology to cook. It's the latest game-changer from ChefWave, the family-owned business behind the MilkMade Non-Dairy Milk maker, the Smokeless Infrared Rotisserie Indoor Tabletop Grill, and other innovative appliances and gadgets. ChefWave believes that home cooking should simple and healthful, without compromising on quality, so you can spend less time in the kitchen and more time on the things that matter.
The Chefe Multicooker (MSRP $199.95) can be pre-ordered through ChefWave. Follow ChefWave on social media: @chefwavekitchen – Instagram; @mychefwave – Facebook.
ChefWave is all about making cooking simple and fun. Recipe Corner is a collection of delicious recipes to make with ChefWave appliances.
https://mychefwave.com/recipe-corner/
About Lifestyle By Focus
Dedicated to helping hobbyists achieve their creative goals, Lifestyle by Focus is a hobby-focused retailer based in Brooklyn, New York. Our customers are a multifaceted, passionate community of individuals with a wide array of interests and expertise. Lifestyle provides the equipment and guidance you need to do whatever you love most, from cooking and woodworking to sports and outdoor activities. We offer the best prices and the hottest deals so that you can live the ultimate hobbyist lifestyle without breaking the bank.
Our catalog spans a wide variety of categories including home and kitchen, tools and home improvement, sports and outdoors, hunting, and fashion accessories. We carry over 30,000 products from top brands including Cuisinart, Zojirushi, Thermos, Nuwave, Jura, Ninja, OXO, Makita, Festool, Arbortech, Fuji Spray, Wilson Sports, Rawlings, Under Armor, Badlands, Ravin Crossbows, Vortex, Smith Optics, and Bolle.
The post Your Kitchen's New B.F.F. In 2022: Steam Heat! Create Fast, Delicious Meals With Sous Vide Results In The New Chefe Multicooker From Chefwave first appeared on PRUnderground.
Press Contact
Name: Vicki Garfinkel Jakubovic

Phone: 9735198926

Email: Contact Us
Original Press Release.