09/27/2022, Great Neck, NY // PRODIGY: Feature Story //



Dr. Brian Capogna has launched his new website, which is set to become the only place people need to look to find relief from pain that can have a debilitating effect on their lives.

Having to live with shoulder, knee, hip or elbow pain can seriously hamper one's lifestyle and day-to-day functioning. These are exactly the areas that Dr. Brian Capogna specializes in ensuring that patients can not only live pain-free but also get back their full range of motion and function. His glowing patient testimonials speak volumes about the quality of treatments he is known to provide.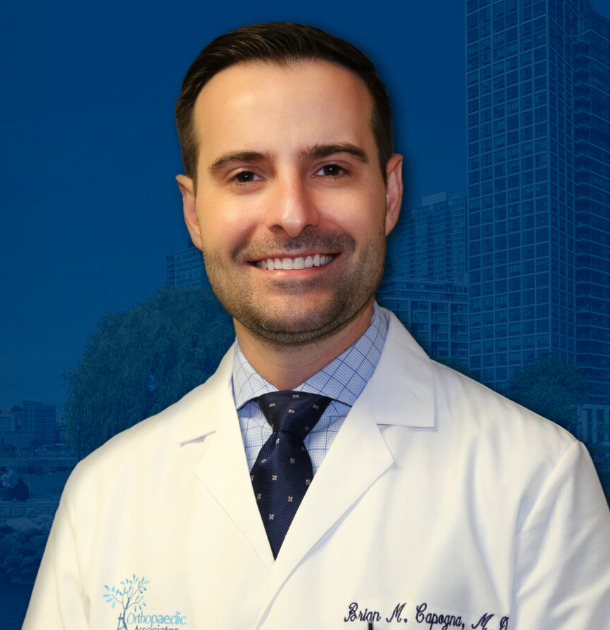 Born and raised in Long Island, Dr. Brian Capogna graduated with honors from St. Anthony's High School in Huntington. He obtained a bachelor's degree with magna cum laude honors in biology and was a member of the Beta Beta Beta (BBB) Biology Honor Society. That was just the beginning for the healthcare professional, who attained his medical degree at the Albert Einstein College of Medicine and graduated with distinction in orthopedic research. It's interesting to note that he was a member of the Alpha Omega Alpha (AOA) medical honor society during that stint, which is an honor reserved for only 5% of aspiring doctors.
Later, Dr. Brian Capogna trained in orthopedic surgery at the renowned NYU Hospital for Joint Diseases where he was the Executive Chief Resident. His stint at the hospital saw him working with some of the pioneers in the field and winning several awards for his contributions. It also led to his selection for a Sports Medicine Fellowship at Andrews Sports Medicine & Orthopedic Clinic in Birmingham, Alabama. It was a game-changer as he received specialized training in diagnosing and treating sports injuries from the best in the field.
Dr. Brian Capogna was the assistant team physician for the NCAA Division 1 Troy Trojans and also looked after athletes from top teams in the area. He brings his specialized training and immense experience to the table as he helps patients and athletes with a wide range of injuries from their day-to-day lives and sports activities. A few of the procedures he performs include – rotator cuff repair, elbow arthroscopy, tennis elbow debridement/repair, meniscus repair, ACL and PCL reconstruction, MCL repair and reconstruction, LCL reconstruction, knee replacement (total and partial), and platelet rich plasma (PRP) injections.
To learn more about Dr. Brian Capogna and the cutting-edge services he offers or to book an appointment, you can visit his website https://briancapognamd.com/.
About Dr. Brian Capogna
Dr. Capogna is a Board Certified Orthopaedic Surgeon with subspecialty training in Sports Medicine and Arthroscopy focusing on injuries to the shoulder, knee, hip, and elbow. Dr. Capogna has made a name for himself with patient-specific treatments that have helped patients lead pain-free lives.
###
Media Contact
Dr. Brian Capogna
Address: 600 Northern Blvd, Great Neck, NY 11021
Phone: (516) 627-8717
URL: https://briancapognamd.com/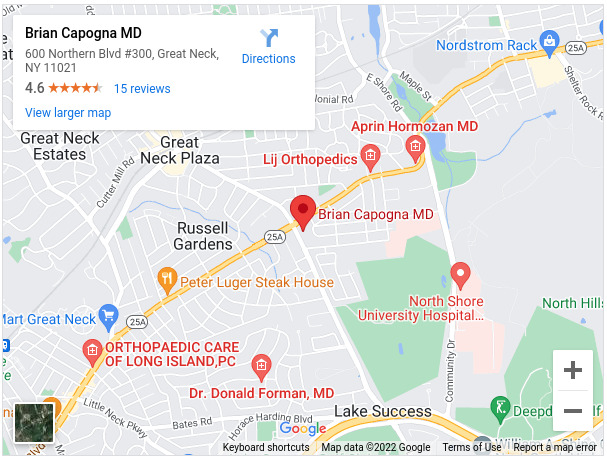 newsroom: news.38digitalmarket.com




Source: 38 Digital Market News

Release ID: 389814


This content is published on behalf of the above source. Please contact them directly for any concern related to the above. 

This press release may contain forward-looking statements. Forward-looking statements describe future expectations, plans, results, or strategies (including product offerings, regulatory plans and business plans) and may change without notice. You are cautioned that such statements are subject to a multitude of risks and uncertainties that could cause future circumstances, events, or results to differ materially from those projected in the forward-looking statements, including the risks that actual results may differ materially from those projected in the forward-looking statements.